Welcome Message
Allied Academies is pleased to announce the 2nd International Conference on Tissue Science and Regenerative Medicine, to be held from 06th-07th June at London, UK.

The second series of Tissue Science 2019 will focus on the theme of "Future directions and frontiers of Regenerative Medicine" which will facilitate interactions with worldwide Tissue Science and Regenerative Medicine experts.
The fields of tissue science and regenerative medicine offer great opportunities for the advancement of human healthcare. Standing at the intersection of Tissue Science, and Regenerative Medicine, together these areas of research promise to change the way injured tissues and organs are not only repaired but regenerated and rejuvenated.
We welcome you to attend the 2nd meeting of Tissue Science 2019 and to discuss the present issues and future research directions in the field of Tissue Science and Regenerative Medicine.
We look forward to hosting you in London!
Regards
Organising Committee
Tissue Science 2019
Session/Tracks
Market Analysis
The global Regenerative Medicine Market has predicted range is about USD 57730.89 million by 2025, from USD 7077.2 million in 2017 which is rising at a CAGR of 30.0% between the forecast period of 2018 to 2025. The future market report comprises the data for the historic year 2017, 2018 is the base year calculation and the forecast period is between 2018 to 2025.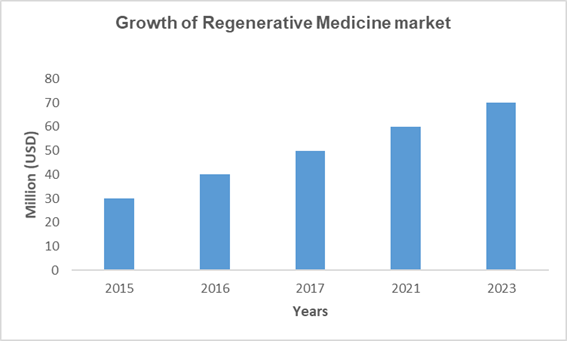 By 2022 the regenerative medicine will record as 19% of CAGR. This market research and investigation has found that there is an increase in the prevalence of chronic diseases as one of the important influences that will increase market development throughout the next few years. Based on the Centre for Diseases and Prevention (CDC), more than 117 million people in US have additional chronic health conditions in 2012.
Likewise, there is also an increase in the occurrence of acute wounds as surgical traumatic wounds and surgical wounds all over the world and in 2016 it has been observed that the worldwide occurrence of the surgical wounds was about 135,000. Moreover, there is also an increase in the occurrence of bone injuries together with osteoporosis and arthritis. Such conditions will determine the need for regenerative medicine during the next few years, also it increases the market development.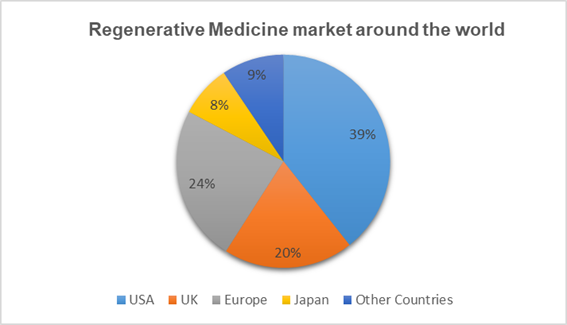 The world tissue engineering market is growing at a constant rate and it is expected to grow at 17.22% of CAGR between the appraisal period of 2017-2022. Due to increase in the progression of the healthcare technology, consistent supply of functional tissues and the benefits of tissue engineering approaches such as it has replaced animal used for drug testing in pharmaceuticals, drive the development of the market. Subsequently, the method is cost-effective, it will improve the market development.
The major market players and competitors:
The major players functioning in the global regenerative medicine market are-
Integra LifeSciences Corporation, MiMedx Group, Inc, AstraZeneca, F. Hoffmann-La Roche Ltd, Merck & Co., Inc., Pfizer Inc., Baxter, Nuvasive, Inc, Organogenesis Inc., Osiris Therapeutics, Inc. (U.S.), Vericel Corporation, Stryker Corporation, Medtronic (Ireland), Acelity (KCI Concepts) (U.S.), Cook Biotech Inc., C.R. Bard (U.S.), Vericel Corporation, U.S. Stem Cell, Athersys, Inc., CryoLife, Inc., Medtronic Plc.,
Top universities in Europe:
University of Oxford
LMU Munich
École Polytechnique Fédérale de Lausanne
KU Leuven
Leiden University
University of Helsinki
University of Warwick
University of Copenhagen
Trinity College Dublin
Pierre and Marie Curie University
Major universities in the United Kingdom:
University of Birmingham
University of Nottingham
University of Sussex
Lancaster University
University of Leicester
University of Aberdeen
Top universities in London:
University of London
University College London
Imperial College London
King's College London
Birkbeck College, University of London
Major Tissue Science and Regenerative Medicine Associations & Societies in Europe:
UK Stem Cell Bank,
UK Stem Cell Foundation,
European Burns Association (EBA)
The UK Tissue Viability Society
TERMIS-EU (formerly European Tissue Engineering Society)
European Countries Biologists Association – ECBA
European Society of Human Genetics
Spanish Association of Tissue Bank
European Association of Tissue Banks
Euro Stem Cell (European Consortium for Stem Cell Research)
Past Conference Report
With the great pleasure, we would like to thank all the keynote speakers, plenary speakers, young researchers, students, business delegates and media partners for making Tissue Science 2018 a magnificent and victorious event.
AAC hosted the joint event of International Conference on Tissue Science and Regenerative Medicine, International Conference on Molecular Biology and Stem Cells and 4th World Heart Congress during November 19-20, 2018 at Hotel Holiday Inn Paris – Marne La Vallée with the theme "Future Revolution of Reinvigorate Medication with Tissue science", "Perpetual Enlightenment towards Molecular Biology and Stem Cells" and "Fostering the Advances in Cardiac Research and Therapy". Gracious response and active participation were received from the Editorial Board Members of supporting International Journals as well as from the leading academic scientists, researchers, research scholars, students and leaders from the fields of Tissue Science and Regenerative Medicine who made this event successful.
The Scientists, Business Delegates, Young researchers marked the attendance at the conference representing more than 15 countries, have driven the conference path to great success.
The conference abstracts were given with DOI numbers in the Journal of Biomedical Research: Current Research. The conference was embarked with an opening ceremony followed by a series of interesting keynote and plenary lectures delivered by both honourable guests and members of the organizing committee. Finally, the day ended up with Poster sessions and a student was given with best poster award as judged by the keynote speakers.
The conference enlightened the various areas of Tissue Science with keynote, plenary, young researcher forum and poster presenters from various universities and organizations like:
Institute of Radiological Protection and Nuclear Safety | France
King Khalid University | Saudi Arabia
Hochschule Furtwangen University | Germany
Catholic Kwandong University | South Korea
University of Florida | USA
Bose Institute | India
University of Illinois at Chicago| USA
Medical University of Ohio | USA
Workshops were conducted by:
Alain Chapel | Institute of Radiological Protection and Nuclear Safety | France
Ki-Chul Hwang | Catholic Kwandong University | South Korea
Once again, we would like to thank our fabulous Organizing committee members and the attendees for their gracious presence by facilitating the who supported the conference with active discussion forums and assistance towards the success of Tissue Science 2018.
Tissue Science 2018, with its grand success, AAC is happy to announce that the "2nd International Conference on Tissue Science and Regenerative Medicine" is scheduled during June 06-07, 2019 at London, UK.
For more information please visit: http://tissuescience.alliedacademies.com/